I always wanted to be a mom. For some reason when I was growing up I just assumed I would have a girl first and then a boy. Well, that's what I got after much trial and tribulation and a miscarriage. My daughter was born a month early on May 27, 1999. This means she is now a teenager and I'm actually loving being a mom of a teenager.
This young woman has taught me so much throughout the years since her birth. Of course I've learned all about what being a mom to a girl is all about. I've learned all those things you need to know to keep your child alive and breathing. But, she's also taught me so much about myself. She is so much like I was at her age that at times it is scary.
My beautiful daughter has taught me to see the beauty inside myself that I never believed was there before she was born. She has given me confidence in who I am and my ability to accomplish my goals and dreams. Although, she is a lot like I was, she is also stronger and smarter and at times she's who I want to be when I grow up.
I will never forget the first lesson she taught me about myself. She was just a toddler. Since I have always worked, she went to daycare/pre-school from infancy. There was a little boy that started at the same daycare in the same week she did. They were at daycare together until Kindergarten. She and this little boy were inseparable at daycare. She talked about him constantly and he drove his parents nuts with her name.
Once afternoon as I was straightening up her room and she was toddling around with me she started talking about her own future. Yes, that is right, my not quite two year old daughter was already laying out her future before her in plain sight of my eyes.
At that time she was adamant that she was going to marry her beau from pre-school. They were going to live in a castle. She was not going to work. They were going to have five cars. And, she was going to have 10 children.
When I heard her talk about being a mom at such a young age it took my breath away. It was at that moment that I realized, not only did she sound like me, but that WAS me at that age. I literally cannot remember not wanting to be a mom and this just jolted me back to my own early childhood when I had already started dreaming of my own family. It was also in that moment that I realized because of her, I was living my biggest dream already and hadn't even realized it until that point.
I had my husband (who is still a mystery to me as to how I got so lucky there), my little girl and my Scottish Terrier. We had our own home and both of us had decent jobs. Our little girl was growing normally and although she'd had respiratory problems was starting to grow out of them and was still very happy.
My own toddler daughter, taught me that my strongest heart's desire was already being realized. It was only about a month later on her 2nd birthday that I would find out the dream was to be complete. That is when the pregnancy test stick again turned pink and my journey to becoming the mom of a boy, too, began.
Our children are not our legacy, they are our teachers. If we are willing to open our minds as well as our hearts and souls to them, we may just find that hidden treasure we thought we were still looking for is already right in front of us.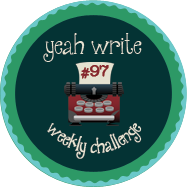 Ok, this is my first time linking up with the challenge grids at Yeah Write! There are a lot of cool bloggers there if you'd like to check out some more really creative posts.